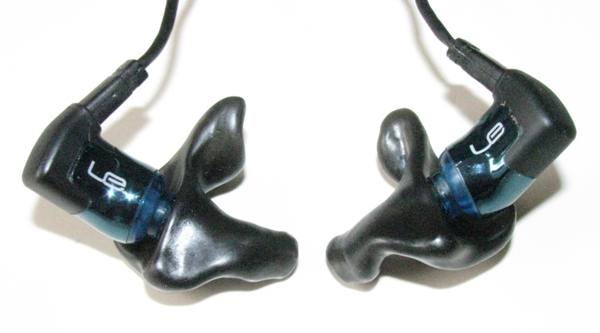 Ultimate Ears are incredible products but we receive numerous e-mails every month from customers looking for a way to improve the performance and fit of their earphones. Custom made Audio Earpieces from Avery Sound are the answer. Avery Sound Company can provide you with a pair of custom molded Audio Earpieces giving you the comfort and sound quality you deserve while reducing outside noise and they wonít fall out of your ear!

Health professionals warn users of the long term consequences of loud music played through ear bud speakers. Our Audio Earpieces allow the user to reduce the volume as it channels the sound efficiently into the ear and reduces ambient noise levels.



Which Ultimate Ears will work with the Avery Sound Custom Earpieces?


The earpieces are not only custom fit for your ear but are custom fit for the specific model of Ultimate Ears. Shown below is one example of Ultimate Ears with custom earpieces. We can make earpieces for a variety of Ultimate Ears models. Send us an e-mail if your model is not pictured.


| | |
| --- | --- |
| Shown to the right is a set of Ultimate Ears Triple Fi 3's with earpieces in black . . . | |
| | |
| --- | --- |
| . . . a set of Ultimate Ears 500vi with custom earpieces in no color . . . | |
| | |
| --- | --- |
| . . . a set of Ultimate Ears 900 with custom earpieces in red . . . | |
| | |
| --- | --- |
| . . . and a set of Ultimate Ears Triple Fi 10's with custom earpieces in black. | |
How do I order a pair of custom earpieces for my Ultimate Ears?

At the bottom of this page you will see the order button for the Audio Earpiece Pair. Enter your order with your choice of color. When you arrive at the actual order page look for the white box labeled "Ordering Instructions". In this box type the make and model number for your Ultimate Ears. If placing an order for two or more sets of earpieces please let us know if the earpieces are for the same person. If for different people please specify the name and color for each person.

Once your order is received we will ship a set of impression kits to make a custom impression of each ear. Mail the completed impressions to our lab using the postage paid mailing materials we provide. We will return to you a set of custom made earpieces that will fit on your Ultimate Ears and are guaranteed to give you the comfort and convenience you have been looking for.



| | |
| --- | --- |
| | Audio Earpieces can be ordered in a wide variety of colors. If no color is selected the earpiece will have a variable tan color. (The material does not cure perfectly clear.) There is even a glitter option for that personalized touch. |
Your comfort is guaranteed, or we will remake your earpiece for free!


What Our Customers Are Saying:

I received my Ultimate Ear 10's a while ago and they are great .. keep up the good work. Thank you.


H. Mohamed
Shrewsbury, Massachusetts

I received my ear pieces. They are amazing! I do want to take advantage of ordering a second pair. Can you make that happen? Thank you for your suggestion on getting the molds professionally done.


J. Yang
Hacienda Heights, California

Got my earpieces and they fit very well - Thank you! Used them on my bike today and I can finally hear the music and they really cut down the highway noise. It took me along time to figure it out but these are definitely the answer. Once again - thank you for the great job.


W. Erickson
Arlington, Texas

I have used several Avery Sound molds on different equipment and they consistently perform as advertised. The customer support at Avery Sound is excellent.


Kirk S.
Fremont, California