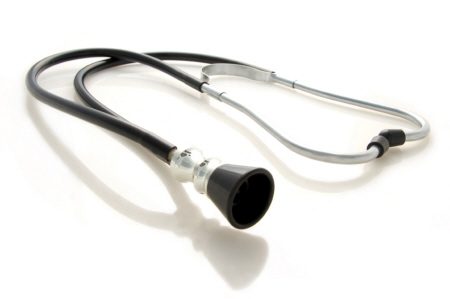 Doctors and nurses use stethoscopes frequently when they are caring for their patients. However they often find that the stethoscope generic ear tips are uncomfortable or do not fit their ears properly.

Avery Sound Company can help. We can provide you with a set of custom molded earpieces that will solve the problem. Our Stethoscope Earpiece is designed to fit over the generic ear tip of the stethoscope providing you with the comfort you deserve. Stethoscope Earpieces can be ordered in a wide variety of colors and there is even a glitter option for that personalized touch.
| | |
| --- | --- |
| Shown to the right is our half shell custom earpiece next to the generic eartip it will replace. Many of our customers like the easy insert and removal characteristics of the half shell version. Specify in the notes section if you prefer the full or half shell earpiece. | |
Let us send you our at-home impression kit to make a custom impression of your ears. Mail the completed impressions to our lab using the postage paid mailing materials we provide. We will return to you custom made earpieces guaranteed to give you the protection, comfort, and convenience you have been looking for.

Your comfort is guaranteed, or we will remake your earpiece for free!

What Our Customers Are Saying:
Thank you for the quality customer support. It is refreshing to get decent customer support in the day of pushing a bunch of numbers, holding for hours, and waiting days for a response. Your time and effort is greatly appreciated! Thanks again!



S. Shook
Littleton, Colorado