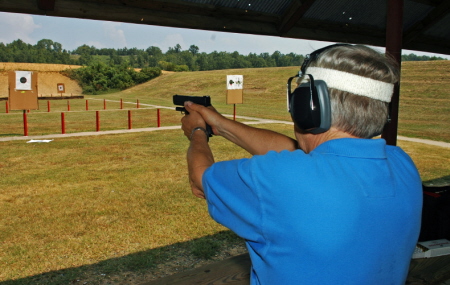 Repeated exposure to the sound of gunfire has proven to be harmful to the human ear and can cause permanent hearing loss. Look around at any shooting range, and you will see the majority of people using some form of hearing protection. The most common protection seen will be ear plugs, ear muffs, or a combination of the two. These provide effective hearing protection, but mean uncomfortable headsets or foam earplugs. Wearing a headset means tolerating the discomfort of the headband. Using the foam earplugs presents its own problem because these earplugs need to be rolled tightly with your fingers before placement in the ears. Dirt and bacteria on your fingers can now be introduced into the ear canal leading to the possibility of irritation and/or infection.


Avery Sound Company has another solution. The new generation JB1000 custom molded Noise Protectors. These custom earplugs provide exceptional seal and comfort while providing the user with the hearing protection desired. A properly fit set of Noise Protectors can provide up to 28dB of noise reduction. These earpieces are available with post handles for easy use and come in a wide variety of colors and even glitter for that personalized touch.
| | |
| --- | --- |
| | Noise Protector Earpieces can also be ordered with a cord. Please use the notes section when you place your order to indicate your preference for post handles or a cord. |
Let us send you our at-home impression kit to make custom impressions of your ears. Mail the completed impressions to our lab using the postage paid mailing materials we provide. We will return to you custom made earpieces guaranteed to give you the protection, comfort, and convenience you have been looking for.

Your comfort is

guaranteed, or we will remake your earpiece for free!
What Our Customers Are Saying:
The most comfortable earplugs ever - no discomfort even if you wear them all day! Great for any shooting discipline - I wear them for all shotgun sports (trap, skeet, clay), pistol, and all caliber rifle shooting. The perfect fit allows not only for comfort, but they will stay without movement for the duration of the activity. Easy to put in and remove! Thank you again for a great product and your great customer service.

A. Tischler
Houston, Texas
Just to let you know that the ear pieces and the Noise Protectors arrived last week. I have worn them on and off for the past week and they are very comfortable.

Barry R.
Galway, Ireland
Received my ear plugs the other day, and I believe they are going to work great. Fit seems very good. I am pleased with the service you personally provided and the product you delivered. Thanks for the help.

H.E.
Georgia
Thank you for the quality customer support. It is refreshing to get decent customer support in the day of pushing a bunch of numbers, holding for hours, and waiting days for a response. Your time and effort is greatly appreciated! Thanks again!

S. Shook
Littleton, Colorado