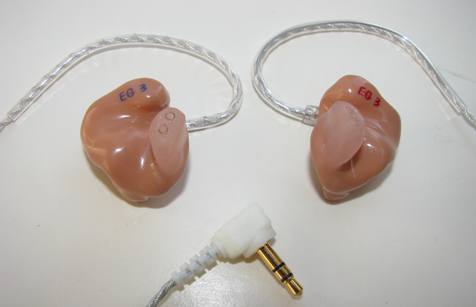 For the professional musician looking for top of the line performance we offer our custom molded Triple Driver Musician Earphones. These earphones are fully integrated and contain three top of the line Knowles drivers. Our Musician Earphones have a minimum 36" cord and a 3.5mm stereo plug. The actual cord color and plug style may vary. The earpieces are available in beige or clear.


| | |
| --- | --- |
| The Musician Earphones have canals made of a special material that help seal the ear canal and provide optimum comfort and performance. | |
| | |
| --- | --- |
| The Musician Earphones have detachable high quality wires and the earphones come with a back up set of wires. The back and front side of a set of monitors in beige color is shown to the right. | |
| | |
| --- | --- |
| Shown to the right is a set of earphones in no color. This set is shown with the black style cord. | |
To obtain a full frequency response and maximum sound isolation for the Musician Earphones it is recommended that the user obtain deep impressions. Our at-home kit provides a very good shallow impression but for peak performance a deep impression is required. In most areas of the country these impressions can be obtained for a charge of between $30.00 and $40.00 for the set. Any hearing aid center or audiologist can make deep impressions for you. The process is quick and painless and does provide a superior impression for high end users.

Just enter the order below and and we will e-mail you a lab order form. Print out this form and take it with you when you obtain the impressions. Send the impressions to the lab address printed on the order form and we will return to you a set of Triple Driver Musician Earphones that will provide the performance you have been looking for.

Your comfort is guaranteed, or we will remake your earpieces for free!
What Our Customers Are Saying:

Just wanted to give you an update and let you know that Rob is beyond thrilled with his monitors! His Birthday gig went off without a hitch and everything sounded amazing, we can't thank you enough for making this happen for him. Our experience with you has been nothing short of fantastic.


B. Gurriell
Asssistant to Rob Morrow
Santa Monica, California

Iíd recommend Avery Sound, both for the quality of its products and the truly fantastic customer service!


D. Stakey
Bohemia, New York

I think you offer a wonderful product and outstanding service!


K. Buzbee
Mentor, Ohio